Bliss Consciousness
The Paintings of Mikel Elam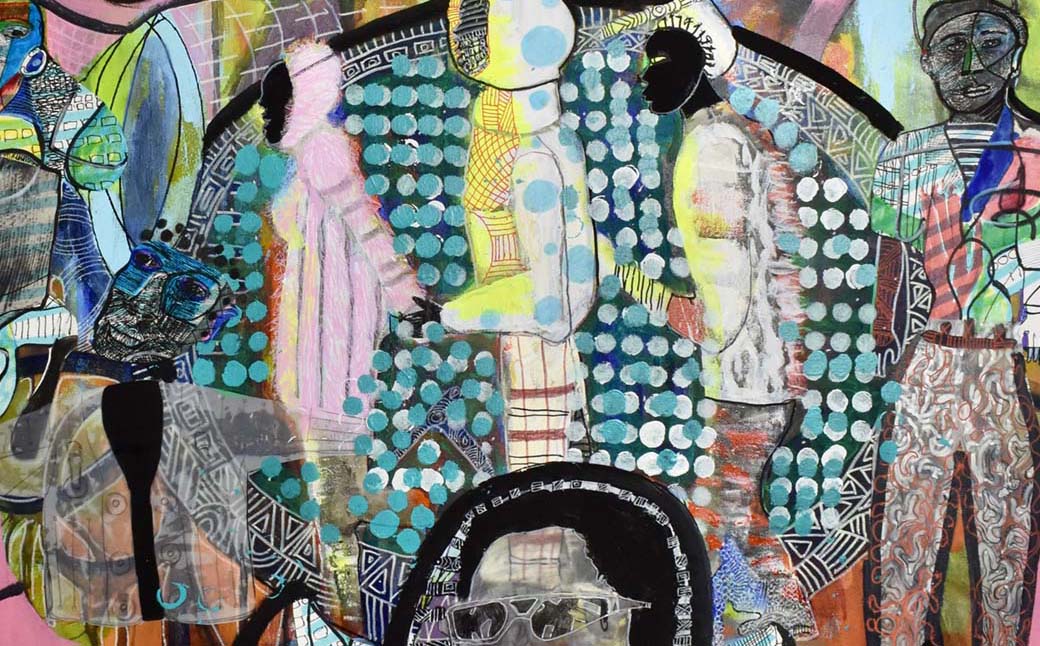 Through February 18, 2024
Annenberg Center Feintuch Family Lobby
PLA Presents
The Sachs Program for Arts Innovation
and
Past Present Projects
present
Bliss Consciousness
, an exhibition of paintings by Philadelphia artist Mikel Elam, on view October 10, 2023 - February 18, 2024.
Mikel Elam is a visual artist who interweaves themes of history and futurism through expressive mixed media paintings. Bliss Consciousness brings together recent works that connect Elam's interests in mindfulness, Afrofuturism, and an overarching philosophy of love. Elam's figurative imagery often begins with photographic inspiration. The subjects become abstracted through his process of layering, erasing, deconstructing, and reimagining imagery. He builds interdimensional worlds around the characters in his paintings, suggesting narratives through paint and collage.

Elam's paintings convey his belief in cultural unity. His imagery simultaneously celebrates the beauty of dark skin while emphasizing the humanity of his subjects over physical traits. These figures are grounded in reality but transcend everyday consciousness. In the artist's words, his paintings "evoke memories of the past with a glimpse into an inclusive future."
Bliss Consciousness is curated by Heather Moqtaderi of Past Present Projects. This exhibition was made possible with support from The Sachs Program for Arts Innovation and was produced by The Sachs Program for Arts Innovation, in partnership with Penn Live Arts.
» Learn More about Mikel Elam

Opening Reception
Tuesday, October 10, 5 PM - 6:30 PM
Please join us for an opening celebration on Tuesday, October 10, from 5 PM - 6:30 PM. Remarks will be at 5:30 PM.
Performances
Tuesday, October 10 @ 5 PM
Sunday, February 18 @ 5 PM
SUBSCRIBE AND SAVE
Artist Information
Elam is a visual artist working primarily as a painter. His work focuses on storytelling through memory and dreams using the fragments of face and figure to convey information and ideals about world culture.

Elam attended the University of the Arts in Philadelphia, where he received a Bachelor's degree in studio arts/painting. He went on to study at School of the Visual Arts in New York City. Elam's work has been featured in international publications and media. He also worked as a traveling assistant to jazz musician Miles Davis. He also assisted Davis in achieving his visual arts aspirations as a painter.
Also See


Bliss Consciousness is presented by The Sachs Program for Arts Innovation and Past Present Projects in partnership with Penn Live Arts.